Peri-Operative Instructions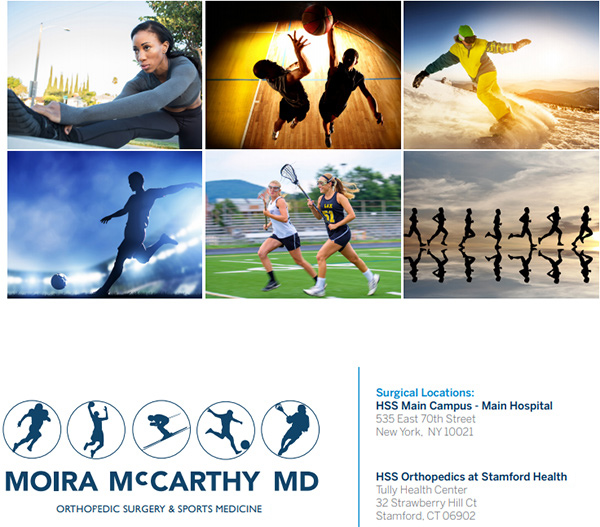 Pre-Operative Instructions
Surgery was discussed during your visit with Dr. McCarthy. We realize that you will likely have a lot of questions. This packet of information will help answer many of those questions and hopefully, make this a seamless process. The packet contains information on logistics of the surgery as well as important pre-operative and post-operative medical concerns. Please read the information and keep it handy as it contains many useful names, contact phone numbers, and details regarding the upcoming surgery. As always, if you have additional questions or concerns please contact us at any time.
Before Surgery:
Location
Surgeries take place at either:
Hospital for Special Surgery in NYC:
Hospital for Special Surgery
535 East 70th Street
New York, NY 10021
HSS Outpatient Surgery Center at Tully Center in Stamford, CT:
HSS at Stamford
32 Strawberry Hill Court
Stamford, CT 06902
Surgery – Pre-Operative Instructions
You will receive a call from the nursing staff between 2 PM and 7 PM on the day prior to your scheduled surgery.
The nurse will tell you what time to arrive at the hospital and what time your surgery is scheduled.
The nurse will review your medications with you and will tell you what medications to take the morning of surgery and what medications not to take.
The nurse will tell you when to stop eating and drinking before the surgery. To be safe, we recommend not eating any food or drinking any liquids after midnight the evening before your surgery.
The surgery schedule is managed exclusively by HSS. We do not manage the surgical schedule and we cannot prevent changes or delays. Surgical timing is sometimes unpredictable and ccasionally there are unforeseen emergencies that cause delays. Please understand that we will do our best to streamline your surgical day with the goal of a safe and successful surgery.

Medical Testing
Medical clearance including laboratory blood tests, an electrocardiogram (ECG), a chest radiograph, and a visit with a medical doctor at the hospital will be ordered for anyone over the age of 50 years and for anyone with medical issues that need to be addressed prior to surgery. Healthy patients under age 40 years may not need any medical clearance. Healthy patients between 40-50 years of age may need only laboratory tests.
Your primary care doctor must clear you for surgery by providing a note and test results.
Medical clearance and laboratory work must be completed no more than 30 days prior to your scheduled surgery.
If you have sleep apnea you may required to stay overnight for observation
All outside tests/medical clearance notes (labs, chest x-ray report, ECG report) must be faxed to our office no less than 3 days prior to your scheduled surgery. The fax number is 203-705-2928.
If you have significant heart disease, cardiac stents, a pacemaker, history of an arrhythmia, have had a heart attack, or have had heart surgery, you must provide us with cardiac clearance in addition to medical clearance.
If you currently take a blood thinner including Coumadin/warfarin, Plavix, or any of the newer blood thinning medications, you must have specific instructions from your prescribing physician sent to us regarding when to stop the medications pre-operatively and when to restart them post-operatively. We generally recommend discontinuing the medications 7 days before the surgery and resuming them 2 days after surgery. However, please follow your doctor's recommendations regarding these medications. If your doctor has any questions regarding this please have him/her contact the anesthesia department at 212-606-1206.
Anyone under the age of 18 years must fax us a copy of your immunization records. These can be obtained from your pediatrician or your school. The fax number is 203-705-2928

Medications
Please contact your medical doctor before discontinuing any medications.
You may continue to take Tylenol and multivitamins before the surgery.
DO NOT take aspirin or anti-inflammatories (such as naproxen, naprosyn, aleve, advil, ibuprofen, motrin, Mobic, Celebrex, or similar medications) for at least 7 days prior to surgery.
DO NOT take any herbal medications, natural products, or vitamin supplements (including, but not limited to alfalfa, capsicum, celery seed, chamomile, chondroitin, clove, dandelion, dong quai,
feverfew, fish oil, flax seed, gamma lineolic acid, garlic, ginger, gingko, ginseng, glucosamine, horseradish, licorice, liver oil, melatonin, onion, papain, papaya, parsley, passionflower, policosanol, poplar, reservatrol, sweet cover, turmeric, willow bark) for at least 10 days prior to the surgery.
Please refer to the above policy regarding blood thinners (including, but not limited to warfarin, Coumadin, Plavix, clopidogrel, aspirin, heparin, Aggrenox, lovenox, enoxaparin, xarelto, rivaroxaban).
Anesthesia
Most surgeries are done with regional anesthesia. This includes a nerve block and some medication to help you relax. You also have the option of general anesthesia. You will meet your anesthesiologist the day of the operation and will discuss all the possible options.
You have the option of scheduling a meeting with an anesthesiologist prior to your operation. This is not required. If you would like to schedule this meeting, please contact our office to help arrange this.
Refer to the section on Billing FAQ for insurance questions.

Medical Equipment
I will be ordering a brace or sling and an ice machine for you to take home with you after your surgery. The company may call you in the days prior to the operation to discuss this with you.
Most insurance companies do not cover the fee for the ice machine. There is a rental fee or a purchase fee depending on the type of ice machine you choose. The specific fees will be discussed with you by the company. I highly recommend the ice machine as it will help with the swelling and pain post-operatively.
Brace/sling coverage is dependent on your insurance plan and DME coverage. A representative from the company will call you pre-operatively to discuss this. If your insurance does not cover DME, the estimated cost of the brace or sling is $250 and full payment will be required prior to surgery. If you have any questions, contact the appropriate vendor (Eschen at 212-606-1262 or Biodynamics at 1-800-879-2276).
Registry
You may receive an email from me with questionnaires to fill out before surgery. This is important to HSS and to help us improve patient care. Please fill these out.
Prescriptions
I will provide you with the appropriate post-operative instructions on the day of your surgery. There are sample post-operative instructions on my website moiramccarthy.com.
I will provide you with prescriptions for pain medication depending on the needs following your specific surgery. Medication instructions are included in the post-operative information packet.
If appropriate for your particular surgery, I will provide you with a physical therapy prescription on the day of surgery.
Insurance/Billing FAQ
Q. How much is my surgery going to cost?
A. A patient's out of pocket costs depend on the procedure, insurance plan, deductible, and whether or not the provider is in-network with the insurance.


Q. How can I determine the cost for the procedure?
A. Ask our office for your surgical procedure codes. Call the Member Services number on the back of your insurance card. Follow the prompts for benefit questions. Offer the specific codes to determine your insurance coverage for the procedure and the anesthesia. This will give you a better idea of your out of pocket costs. Ask your insurance company if they can provide a cost estimate based upon your coverage and how much of your deductible you are required to meet in order for your surgery to be covered.


Q. Is there anything else I will get billed for?
A. After your surgery, you will receive bills for the following:
Dr. Moira McCarthy (surgical procedure)
Hospital for Special Surgery or Stamford Hospital (OR time and supplies)
Anesthesia (East River Medical Anesthesiology)
Brace Company (Eschen or Biodynamics)


Q. Do I have to obtain my own insurance authorization?
A. Authorization for your surgery is obtained by our office staff.


Q. Brace/sling/DME?
A. Most surgical cases require a brace/sling at the time of surgery/discharge. This is billed through the DME part of your insurance.


Q. What if I receive a questionable bill?
A. Determine who the bill is from (Dr. McCarthy, HSS, Anesthesia, Brace). Follow up with that billing company. Most times the phone number on the bill is the best one to contact.
For all billing questions with regard to Dr. McCarthy, please contact our billing company BSI (Billing Services Inc.) at 631-582-7100.
For all billing or pre-op questions regarding the anesthesia charges/bill, please contact the billing company BSI (Billing Services Inc.) at 888-877-3850 or 631-907-2185


Day of Surgery
I will meet you in the peri-operative holding area prior to your operation. We will review the procedure to be performed and I will answer any outstanding questions. You and I will sign a consent form for the operation.
I will speak to your family members/friends in the waiting area after the operation. They will be able to see you when you are settled in the recovery room.
In the recovery room, a nurse will attend to you. I will speak with you in the recovery room and my PA will call you a few days after surgery to see how you are doing and answer any questions.
Your brace or sling will be applied in the operating room. This brace or sling is essential and you must wear it unless I tell you otherwise.
Escort
Please make arrangements for someone to take you home after your surgery. You will not be allowed to leave the hospital alone. You will also be required to have a form of private transportation (car, taxi, etc) and will not be allowed to take public transportation home.
Physical Therapy
You will meet a physical therapist in the recovery room. The therapist will show you the exercises you are allowed to do and may give you a sheet of paper to take home with you reminding you of the appropriate exercises.
Keep your operated extremity elevated as much as possible. If you have knee surgery, place a pillow under your ankle/lower leg to keep the leg extended. Do NOT put a pillow behind your knee. If you have shoulder surgery, you may want to sleep in a reclined position with your head/shoulder elevated to decrease the pain and swelling over the first few days.
After Surgery
Ice Machine
The ice machine will aid in decreasing pain and swelling. Use the machine for 20-30 minutes at least 4 to 6 times per day for the first few days. After that, use it at least 2 to 3 times per day. You should use it more frequently if you are having continued pain and swelling. Avoid frostbite on the skin by using a barrier between the skin and the machine.
Wound Care
If you have a large bandage such as an ace wrap on your extremity you should remove that after 48 hours. There will be smaller bandages over all your incisions. If these are clean and dry, you may leave them until your first post-operative appointment with me. If the dressings are soiled or become wet, remove them and pat the area dry. Leave the steri-strips (small white tapes) on all incisions. Do NOT apply any sort of cream or ointment (including bacitracin, Neosporin, Mederma, or anything else) to the incisions at this time. Keep the incisions clean and dry until 2 days after the stitches are removed in my office. Place waterproof dressings over all incisions to keep them dry when showering.
There may be some bleeding or fluid leakage from the incision sites after surgery. This is normal after this type of surgery. This may continue for 24-48 hours. You may change and/or reinforce the bandages as needed. Do NOT remove the steri-strips (white tapes) covering the incisions even if they are wet or bloody.
Swelling
There will be MORE swelling on days 1-3 than there is on the day of surgery. This is normal. The swelling will decrease with the anti-inflammatory medication, the ice machine, and keeping it elevated. The swelling will make it more difficult to move your fingers, wrist, and elbow after shoulder surgery and more difficult to move your knee after knee surgery. As the swelling goes down, the movement will become easier.
Bruising
There may also be associated bruising down the arm to the hand or down the leg to the foot. This is also normal and is due to gravity. Monitor this to ensure that it is not increasing after days 2-3. If you are concerned, call the office.
There may be some numbness on the skin around the incision sites. This is normal. It may last for up to 6-12 months.
Showering
You may shower after 48 hours as long as the incisions stay clean and dry and you are stable enough to get in and out of the shower. For shoulder surgeries, you may remove the sling to shower. For knee surgeries, wrap your knee with plastic wrap and secure it with tape around your thigh. Then, place the brace on and cover it with a cast bag or a garbage bag with a hole cut in the bottom for your foot. Secure it with tape around the thigh and ankle. If the sutures do get wet, pat them dry. Cast bags can be purchased at the local drug store. For knee surgeries that require braces post-op, you MUST wear the brace when showering for the first 2 weeks at least.
Use any necessary assistive devices (sling, brace, crutches) as instructed. Do not make decisions to remove a brace or sling on your own as this may negatively impact the outcome of your surgery. These are necessary devices and must be used as instructed. If you have questions, please call the office.
Do the instructed post-operative exercises. If you are given a prescription for physical therapy, you should set up your appointment and begin therapy. If you are not given a prescription for physical therapy, you should do only the exercises taught to you by the therapist.
Avoid alcoholic beverages and illicit drugs when taking pain medications, especially those that include narcotics. This may result in serious or possibly fatal side effects
Work/School
You may return to work/school in the next few days after surgery when you feel up to it. Surgery often makes you fatigued for days-weeks and each person is different. You may need to start out slow and gradually build up your time spent away from home. You will need extra time at school, an elevator pass if necessary, room to elevate your leg/arm, and additional help. I can provide you with a note for work or school if you need one.
Call the office with any questions. Make sure you have an appointment to see me between 10-14 days after surgery.
Chest Pain
If you develop chest pain, shortness of breath, or fainting spells, you MUST go to the emergency room for evaluation. If your symptoms are severe, please call 911 rather than going in a private vehicle. Notify my office secondarily. First priority is getting to the ER.
Blood Clots
Orthopaedic surgery patients are at risk for blood clots, especially after lower extremity surgery. Please be sure to notify me/the medical doctor/anesthesia if you or someone in your family has a history of blood clots anywhere in the body or any type of clotting/bleeding disorder.
Obesity or use of oral contraceptives can increase the risk of blood clots. Women should not take oral contraceptives while immobile post-operatively.
Traveling after surgery such as on long air flights or car trips may also increase the chance of blood clots. If you are traveling within 3 months of your surgery, please notify my office for advice regarding aspirin or other medication management.
Signs of a blood clot may include calf pain or cramping, diffuse swelling in the leg and foot, chest pain, coughing, or shortness of breath. Please call the office immediately if you notice any of these symptoms. Alternatively, if these symptoms are severe please call 911 and proceed to the nearest emergency room ASAP.
Fever
It is normal to develop a low-grade fever after surgery (up to 100.4 0 F). This can last up to 3 days after surgery. If your fever is higher or you have any concerns, please call the office.
Constipation
Pain medication may make you constipated. Try the following solutions in the order listed:
Take colace (stool softener).
Decrease the amount of narcotic pain medication you are taking.
Stay well hydrated. Drink decaffeinated fluids.
Drink prune juice.
Take Senakot (over the counter laxative).
Take Miralax (stronger, over the counter laxative).
If none of the above have helped significantly or if you experience significant abdominal pain and/or uncontrolled nausea or vomiting, call the office.
Prescriptions
Prescriptions for a narcotic pain medication, an anti-inflammatory medication, and an anti-nausea medication will be given to you. We suggest you use the pain medication the first night prior to going to bed, in order to ease any pain when the nerve block wears off. You should avoid taking pain medications on an empty stomach, as it will make you nauseous. Otherwise, use the narcotic pain medication ONLY as needed. Use the anti-inflammatory daily, as prescribed, to reduce the swelling and pain after surgery. See the instructions at the end of this packet regarding specific medication instructions.
Narcotic Pain Medication
Usually this will be Percocet or Norco. They contain narcotics, which are powerful pain medications. These medications will be necessary for you to take in the days after surgery. You will find that you can decrease the number of pills taken after the first few days. They (Percocet and Norco) also contain Tylenol. There is a maximum daily limit of 3 g of Tylenol per day, so take only the prescribed amount of these pills. Narcotic pain medications cause constipation so stay well hydrated and take a stool softener (see below).
*Do not drink alcoholic beverages or take illicit drugs when taking pain medications. This may result in serious or possibly fatal side effects.
Instructions for Percocet:
Percocet 5/325 (5 mg oxycodone and 325 mg Tylenol per tablet).
Take 1-2 tablets every 4-6 hours as needed.
Maximum number of Percocet pills in a 24-hour period is 10.
Instructions for Norco:
Norco 5/325 (5 mg oxycodone and 325 mg Tylenol per tablet).
Take 1-2 tablets every 4-6 hours as needed.
Maximum number of Norco pills in a 24-hour period is 10.
Anti-Inflammatory Pain Medication
Usually this will be Naproxen. This medication is essential to help with the pain, swelling, and inflammation from the surgery. You should take this medication twice a day as prescribed. This medication can have an impact on your stomach, so take it with food and discontinue taking it if you develop stomach pain or any concerning GI issues.
Instructions for Naproxen:
Naproxen 500 mg tablet.
Take 1 tablet with food twice a day.
Maximum number of naproxen pills in a day is 2.
Baby Aspirin
This is an anti-coagulant. Taking this will help prevent blood clots (DVT). Of course, if you have any significant symptoms concerning for a blood clot (increase in swelling, pain, fever) please call the
office. Aspirin, like naproxen, can also cause stomach problems. If you develop stomach issues, please discontinue taking the medication and call the office.
Instructions for Aspirin:
Aspirin 81 mg tablet.
Take 1 tablet with food once a day.
Anti-Nausea Medication
This medication is only to be taken if you are nauseous post-operatively. If you need to take it, take it only as directed.
Instructions for Zofran:
Zofran 4 mg oral dissolving tablet.
Take 1 oral dissolving tablet every 6 hours as needed for nausea/vomiting.
Stool Softener
This medication is to be taken to prevent constipation. Take this only as long as you are taking the narcotic pain medication or if you need it. And stay well hydrated. If you are having constipation even after taking this medication, please refer to the miscellaneous section above for further instructions.
Instructions for Colace:
Colace 100 mg tablet.
Take 1 tablet three times a day.