Patient Testimonials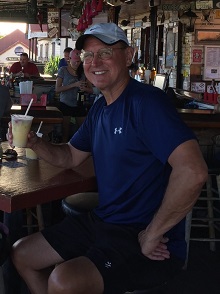 As a self-professed 68-year-old exercise nut, I was treated by Dr. McCarthy for complex tears of my medial and lateral meniscus in my left knee. After an extensive evaluation, Dr. McCarthy reviewed my options and was very open in considering my input. A year ago I opted for a cortisone injection and PT treatment which, as she accurately explained, would be a temporary fix. In less than a year I returned to Dr. McCarthy and opted for a partial meniscectomy. For the next 2 months Dr. McCarthy was extremely informative and accurately described the process from pre-op to post-op to recovery. Two months after the surgery I have returned to my daily exercise routine, which includes an hour of cardio as well as alternating days of upper/lower/ab strength exercising. I AM VERY PLEASED WITH THE RESULTS AND EXTREMELY GRATEFUL FOR THE CARE I RECEIVED FROM DR. MCCARTHY, DR. CROSS AND THE ENTIRE HSS STAFF!
Hunter Kiselick
Nutley, NJ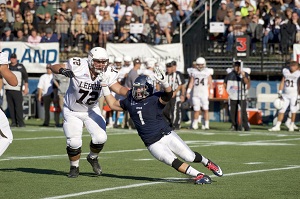 I was 22 years old, finishing up my senior, and at the time, final season of football at Georgetown University, when I decided to turn to Dr. McCarthy and HSS.
Looking back, there is no real timeline for when exactly I tore my meniscus. I have been playing sports at a competitive level virtually my entire life, and at this point, I had lingering knee pain for about a year and a half.
However, it was not until our first league game, about 6 games into the regular season, in the 3rd quarter versus Bucknell University when my knee felt serious. I remember feeling an incredible pop in the middle of a play, and this "lingering knee pain" had suddenly become severe. Obviously, rather than take the rest of the season off, I had my knee wrapped up and I headed back in to finish the game. After limping through the remaining 5 games of the season, I immediately made an appointment with Dr. McCarthy and HSS.
The hospitality, confidence, and genuine nature of Dr. McCarthy and HSS had me feeling worry free heading into my first surgery. Dr. McCarthy's level of professionalism eradicated any anxiety or feeling of nervousness. Before I knew it, I was awake and ready to go home.
Post-surgery, I felt little to no pain, I could drive within a day, and with daily rehab and exercise, I returned to 100% full strength within a few months. More importantly, my knee felt strong enough to where I had the confidence to pursue a red shirt season I had discovered I could earn within my eligibility.
Leaving the game of football after my senior season limping away, I was left with a bitter feeling to say the least. Dr. McCarthy gave me the opportunity to have the confidence to finish what I started and to leave the sport feeling like I gave it my all. During my red shirt season, I recorded my best statistical season of football since I started playing the sport, earning league-wide and nationally recognized awards for my play on a weekly basis, as well as throughout the entirety of the season.
Thank you so much Dr. McCarthy, I will most likely see you soon now that I am in the full swing of retirement!
I came into HSS in a tremendous amount of pain and was not optimistic. Dr. McCarthy was patient and thorough with her explanation of my injury as well as the surgical procedure. Her and her team's bedside manner was wonderful and immediately put me at ease. Her attention to detail was extraordinary and set the stage for my quick post-surgical recovery. My busy job keeps me literally on my toes (physically), and Dr. McCarthy had me back on my schedule within two days. Thank you again Dr. McCarthy and team!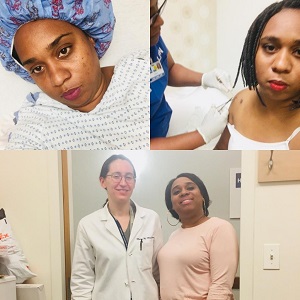 August 17th was the day I was having shoulder surgery. I had experienced frequent shoulder dislocations since the age of 19. As the years went by, I had seen specialists, taken MRI's, even participating in physical therapy. After coddling my arm for years, out of fear of another dislocation, I started to experience issues with my neck and shoulder blade, stiffness and pain due to the lack of motion. The pain became unbearable; I decided that I would try again to get my shoulder fixed. That is when I met Dr. Moira McCarthy. My feelings were, this visit was going to be like all of the others, with no progress. I was wrong.
Can't quite remember the date I met Dr. Moira McCarthy but instantly, I felt comfortable. We talked very candidly about my issue. I was subsequently sent for a series of test. Even the process of doing the testing can be a task but, she makes everything so simple and positive, you just go with the flow. Dr. Moira McCarthy assured me that this issues could be solved.
After the test was done, then it was time to talk about the procedure. I never had a surgery before which was one reason why I never committed to getting my shoulder fixed. After some questioning, Dr. McCarthy eased my fears by acknowledging that this was a surgery that she had done many times. Unlike other surgeons, I believed she was a pro. She seemed very confident in her craft. There was a minor issue, I smoked cigarettes. She informed me that if I smoked that my healing would be slow. I was also informed that the arteries are constricted for 4-6 hours after each cigarette. I didn't like how that sounded…I decided that to be on the safe side, I would stop cigarette's before the surgery. I would heal my body before the healing. That's what I'll do...the delivery of this information was such an impact, I experienced a major life change.
August 17th….two days after my daughter's birthday, I was feeling fear and anxiety. But, Dr. McCarthy is so confident and she has done this before, so I am going to have the surgery! When I arrived, for some reason, my fear was gone. The staff at Hospital for Special Surgery was so attentive and answered all of my questions. I felt like I was in good hands. I prepared myself and chatted with different staff that confirmed my identity and surgical spot numerous times. Then a familiar face appeared and it was Dr. McCarthy. I was sure that I would be just fine.
Fast forward, six months later, I have regained full function of my shoulder, with little discomfort. I am sure that will soon dissipate. I am also cigarette free for six months. No doubt, committing to have surgery is a big decision to make especially if you have never had one before. The staff at Hospital for Special Surgery understand that and are committed to making people feel at ease.
I am truly grateful for Dr. McCarthy. I do not want to forget physician's Assistant, Dr. Thomas Higginbotham. He too handled my circumstance with care and patience. The commitment to delivering nothing short of excellent service will forever be appreciated. I can't wait to get back to bike riding and feeling confident doing so. Thank you for giving me my life back.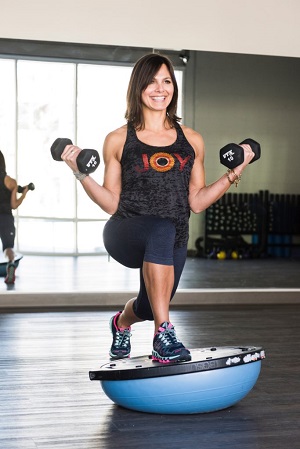 I have always been an active person and have been a fitness instructor for the past 6 years. I also enjoy CrossFit and Yoga. I had a rotator cuff issue and then fell in the spring and made it worse. I needed surgery on my right rotator cuff & biceps tendon. After meeting with a few doctors, I chose HSS and Dr. McCarthy. I felt confident she could repair me and I would be able to go back to my regular routine after I was healed and completed physical therapy. I was diligent with my therapy and worked regularly with Justin from HSS who was great!! I am very thankful, I feel great and am back to being extremely active as you will see from my video. Thank you HSS!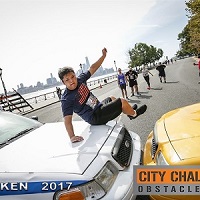 After thinking that my ACL injury would've been the end of my high school career, HSS put me right back into the game feeling better and stronger!
Lisa Hohman
New Riegel, OH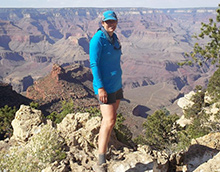 I tore my meniscus in June of 2015. My MRI was non-conclusive so I underwent physical therapy locally with limited results. In December of 2015, Dr. McCarthy completed an MRI and identified the tear. I had surgery February 19th and on June 8, 2016 I hiked 9.5 miles up the South Rim of the Grand Canyon. It took me 7.5 hours in 110 degree heat, but I completed it with very little knee pain.
Felix Castro
Forest Hills, NY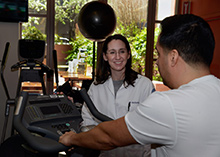 My experience at HSS and especially with Dr. McCarthy was excellent. This was my third knee surgery and she took the time to review my past medical history and go over it with me, as well as what she would do in her ACL procedure. She discussed various options and encouraged a second opinion if I thought I needed one.
Since having the surgery with Dr. McCarthy it took about 9 months to recover and 1 year until I resumed to my superhero-like athletic ability. Today, I can snowboard, downhill mountain bike and play basketball.
I would highly recommend HSS and Dr. Moria McCarthy!
Jim Yearsley
West Babylon, NY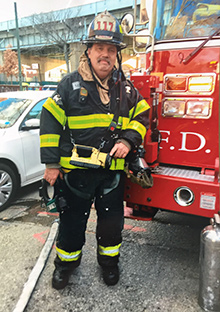 Dear Dr. McCarthy and the Staff at HSS,
Please accept my heartfelt thanks and admiration for the care you gave me at Hospital for Special Surgery.
I hobbled in on crutches many months ago, fearful that my career as a firefighter was over. I am now back at work thanks to your care, compassion and professionalism.
My family and I are forever in your debt. If there is anything we can assist you with in the future, please do not hesitate to call on us.
I am extremely happy that Dr. McCarthy reconstructed my ACL! From the very first visit, she has been terrific. During my appointments with her before the surgery, she answered all of my questions and addressed all of my concerns. I felt confident in my decision to have surgery and that she was the best surgeon to do it.
The ACL reconstruction went great. My knee is stable and strong. Post surgery, Dr. McCarthy guided me through my rehabilitation. She continued to take time to address any concerns that I had. Her feedback on how the rehabilitation was progressing was vital to our success.
Today, my knee responds well to everything I need it to do. I am running miles faster than I ever have and I feel great. If you have a torn ACL, I urge you to make an appointment with Dr. McCarthy.
Nathaniel Kue
New York, NY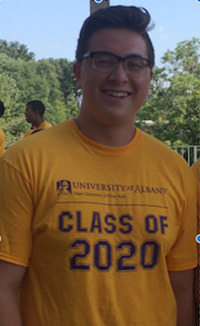 It was a preseason baseball game for my high school. I don't know what happened. I swung the bat and then went down. I couldn't walk or stand. I went to an ER and they ace bandaged my knee and told me to follow up with an Orthopedic doctor in a week. My mom called Dr. McCarthy's office and she saw me the next day. She was sure my MCL was torn. She said sometimes other ligaments can also tear with the MCL that might need surgery. Her office got me an MRI appt the same day.
There were other ligaments involved but I would not need surgery. I was placed in a knee brace and Dr. McCarthy saw me every week until I got better. She spoke regularly with my PT who said he rarely got doctors to answer his calls. I didn't get to play my senior year and final season of baseball, which was a total bummer, but I was able to work my summer job as a camp counselor and play beach volleyball with my friends without any issues. Thanks Dr. McCarthy!!!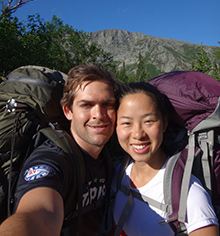 In May of 2015, I injured my knee playing for the professional ultimate frisbee team in NYC. The injury consisted of a sharp pain at the front of my knee, which limited me from doing anything more than jog around with extreme discomfort.
After consulting with doctors in NYC and receiving a few misdiagnosis, I finally obtained a consultation with Dr. Moira McCarthy. Within our first appointment she properly diagnosed me as having cartilage damage in my knee cap and a partial patella tendon tear. She then laid out options for us, the last one being surgery. After following the plan subscribed there was unfortunately no significant improvement, so in September we decided to move forward with surgery. I consider myself extremely lucky to have been in Dr. McCarthy and her staff's care for this process, with an additional huge thank you to her office manager, Alicia. My insurance company was not easy to deal with, but they (the team at HSS) did everything they could to help.
The surgery ran extremely smoothly. Every staff member was incredibly professional, with excellent customer service. The recovery was certainly not easy but I stuck with it and within five months I was running again and have been able to do some serious hiking and backpacking less than 1 year of the surgery. My overall quality of life has increased so much because of Dr. McCarthy and her staff, I cant thank them enough. I would come back in heart beat but hopefully won't need to!
Shannon Spencer
Irvington, NY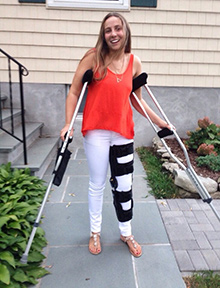 The summer before my sophomore year of college, I had freak accident and tore my ACL and meniscus. I was a competitive runner, and after I received my diagnosis, Dr. McCarthy created a treatment plan that was conducive to me running again as soon as possible. At first, I was progressing well, but soon I began experiencing stiffness in my knee. Running became difficult, let alone walking. I found myself back on the table 10 months later. Dr. McCarthy opened me up and took out the extra scar tissue that had formed at the joint and was interfering with my mobility. Thanks to Dr. McCarthy's incredible work, expertise, and diligence, exactly two months later, I was able to fly out to Rio and intern for NBC at the Olympics, as well as return to doing all the other things I love!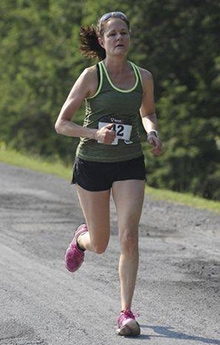 I am a runner. Running makes me happy! I love to run races — from 5Ks to marathons. Running is part of my daily routine — that is until I started having pain and tightness in my left knee. I tried to ignore it and run through it thinking it would go away. That didn't work so I went to see Dr. McCarthy and after her examination and an MRI, she confirmed that I had a torn meniscus.
We discussed the various options and although at first I was hesitant to have the surgery, I am so glad I did! The surgery went well, I followed up with physical therapy and am happy to say that a few months later I am back running and racing again. I just completed a half marathon and I am happy to say that I ran pain-free! Thank you Dr. McCarthy and everyone at HSS who helped me get back in the game!
Ellen Mactas
Edgewater, NJ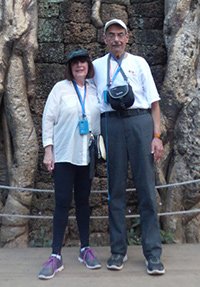 My shoulder was causing extreme pain and physical therapy was not helping. Dr. Toresdahl determined that surgery was necessary. I was very concerned because the recuperation time is very long and difficult. My husband and I travel frequently and I didn't want to limit my activity or dramatically change my lifestyle. In addition we had a trip to Vietnam/Cambodia planned for 6 months after the surgery which I didn't want to reschedule. Dr. McCarthy was just wonderful. She explained the procedure, scheduled it and, I was impressed with how quickly I felt better. We did go on our trip without complications. I wear many off-the-shoulder tops and I cannot see where the incisions were made. Great job, Dr. McCarthy!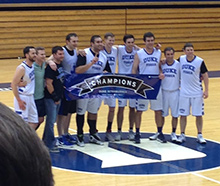 After moving to New York City in the summer of 2015, I joined a recreational basketball league. While going after a rebound during my first game, I landed awkwardly on my right leg and immediately felt discomfort in my knee. I later learned that I tore my ACL and partially tore my MCL… I was devastated.
Upon speaking with friends and colleagues about my injury, it quickly became clear that HSS would be the best place to have my knee repaired. I first met Dr. McCarthy the week before my surgery and could not have been more impressed. She made me feel confident that not only would my knee be successfully repaired, but that I would one day play basketball again. I have been active through sports my entire life, so getting back to playing at a competitive level was extremely important to me.
The surgery went flawlessly and after just a few days, I began physical therapy at HSS. My physical therapist Julie Khan and Dr. McCarthy made for a winning team. For the first few weeks and months, I routinely met with Dr. McCarthy for follow-up appointments, and she even made herself available whenever I had questions or concerns. She also stayed in close contact with Julie regarding my progress at physical therapy, which further exemplified how committed she was to my success.
I could not be happier with my experience at HSS. The people and facilities are amazing, and there is a clear patient commitment from day one. I would recommend Dr. McCarthy to any athlete with a knee problem and while I hope to avoid future injuries, I know I will be back to HSS to see the team for as long as I live in New York.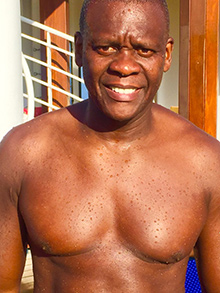 My story is simple. For a number of years I had difficulties during my routine weightlifting program. More specifically, I was having difficulties lifting light weights with a sharp and direct pain in my left shoulder. In addition to that, about two years ago I started to run and over the past two year a sharp pain would hit me on my left knee. So I started to research and spoke to several folks who recommended I have HSS take a look at both my shoulder and knee. Last year I started to gain a bit of weight as I could no longer run and make it to the gym because of the excruciating pain. So in November of 2015 I decided to visit HSS and Dr. Moira McCarthy was the one who operated on my Medial Meniscus Tear. The surgery was so successful that a month later in December of 2015 I had her operate yet again on my right shoulder to correct a Rotator Cuff Tear. I have been back in the gym since March of this year and lost about 15 pounds, I am now able to lift heavier weights just like I did 10 years ago. This was only possible because of the work Dr. McCarthy and the team of HSS.
Jacqueline Boyle
Stamford, CT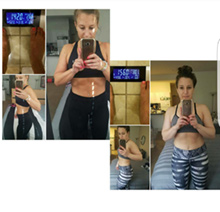 My experience with HSS was incredible. I had the worst injury in all of my years of being an athlete. I was devastated, depressed, and scared to death after I had a full ruptured right Achilles doing gymnastics. HSS took me right in quickly an assured me that I was in the best hands with the best doctors and that everything would be just fine.
They were definitely right. My surgery went very well, healed well and I have a beautiful scar thanks to my doctor. I was also recommended to the best Physical Therapist who specialized in Achilles repairs. Again, they reassured me I would be back to boxing in no time and back to full strength. They were right. Surgery was on July 14th and now I'm getting ready to fight again on September 17th, just 1yr and 2 months after surgery. I couldn't be more happy with my recovery and so thankful I found HSS and Dr. McCarthy.
Howard Herman
Brooklyn, NY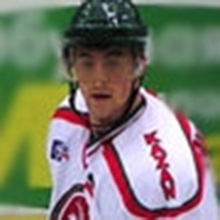 I was referred to Dr. McCarthy by a pain management specialist at HSS since I could not raise my extended right arm parallel to the ground. I incorrectly thought my problems were a direct result of a neck injury I suffered. An MRI proved that I was wrong about the cause of my shoulder problems and it was not the result of a nerve problem in my neck. Dr. McCarthy saw me immediately as I was in a lot of pain. Her treatment was initially conservative (cortisone injection for pain relief and PT). Her decision to not rush to perform surgery was appreciated.
The injuries I had were too great to be treated without surgery. Dr. McCarthy performed four arthroscopic procedures as well as re-attaching my biceps tendon all at the same time. The recovery this time proved to be far less painful than a prior shoulder surgery on my other arm done years ago at another hospital. Home rehab continues to keep building strength and flexibility. I have regained virtually all of my range of motion.
I believe that surgery is only minor when performed on someone other than me. I am not a trusting person by my nature or training. I have had issues with anesthesia in my family (my father), which the doctor discussed and helped me deal with. I selected my anesthesiologist from candidates I vetted with Dr. McCarthy's help and that doctor proved to be wonderful.
I have always told people who worked in my law office (lawyers that I trained) that "you can't demand respect or trust from a client, you have to earn it." That is true of doctors as well. She did things "old school" and EARNED my trust and respect by doing a superb repair. She (and her office) has been supportive and responsive to my calls and needs. My assessment of the surgery has been echoed by my physical therapist and the insurance company doctor doing "independent medical exams" for my carrier. High praise, indeed.
I am back to doing some of the activities I used to do before. I continue to add to the kind, intensity and duration of these activities. I can recommend Dr. McCarthy without reservations.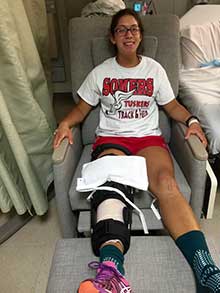 In July 2014, I had an ACL reconstruction surgery at a different hospital, which unfortunately did not have the desired results. The screw anchoring my cadaver ACL slipped out of place and rubbed against my ligament, wearing it away and eventually shredding my meniscus. Because this was a gradual process, I did not know my ACL had been torn for 6 months. Surgeons, athletic trainers and physical therapists encouraged me to continue running and achieving milestones, despite a regularly occurring sensation of my knee giving out. When I returned from college, I went to Dr. McCarthy at Hospital for Special Surgery, who determined my ACL and meniscus were torn. Less than one year after my original ACL reconstruction surgery, Dr. McCarthy performed an ACL revision using my hamstring tendon and a meniscectomy. It has been 4.5 months since my surgery, and through conservative and extensive physical therapy, I am beginning to resume my active lifestyle once again.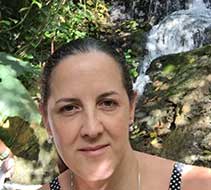 More than a year ago a ski accident led to a complete tear on my right ACL and I needed surgery for its reconstruction. Dr. Moira McCarthy took care of it and she truly engaged with my whole surgery process in a very professional and caring way. I have to say it was my first surgery and she took care of all my concerns; she did an amazing job! Then she supported me with all the post-surgery advice and physical therapy that I needed.
The result: all this inspired me to fully recover and furthermore I started being extremely active (I wasn't before, so things happen for a good reason!) Now I find myself working out, doing strength training, spinning, TRX, yoga, and I even trained and ran my first 5k in Ridgefield CT almost 3 weeks ago making a good time for being a beginner!! I just feel great at 45 and my right knee is as strong as ever! Thanks for all your support Dr. McCarthy!!
Harry Spiegle
New York, NY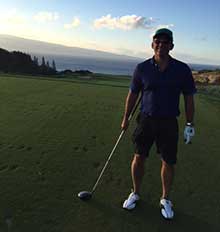 While spring skiing in Utah I tore my ACL and meniscus during an accident. I immediately contacted HSS and Dr. Stephen Fealy. I needed to have a full ACL replacement and my meniscus repaired. The ACL fully recovered, but unfortunately, the meniscus did not completely heal and during a weekend jog in Central Park I developed a new tear. I then visited Dr. Moira McCarthy, who specializes in meniscus repair and she assured me she could get me back to near normal. I can tell you it is under a year and I am back to full activities including wind sprints. I am very grateful to Dr. McCarthy for helping me get back to my active life. I still need to perform therapy every so often but will a little effort I was able to back to to my activities.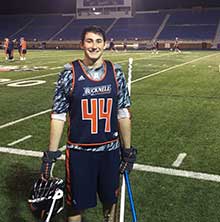 My name is Alec Talarico and I am currently a student athlete where I play Division 1 lacrosse. I suffered a season ending injury that occurred just a few weeks before the start of my senior high school season. I was voted team captain of my varsity lacrosse team going into my senior year and the entire year all I looked forward to was leading my teammates to a state championship. Unfortunately for me I severely tore my lateral meniscus in my right knee during a captains practice just a few weeks before the start of the lacrosse season. As you can imagine this was a devastating event for me and my family. When I first suffered the injury I was unaware of what exactly I had done to my knee so I was scheduled for an MRI at HSS. Luckily for me this is where I came in contact with Dr. McCarthy. After reviewing the MRI Dr. McCarthy told me that the next step in order for me to get back on my feet would be to have reconstructive surgery on my meniscus and that she would be the one performing the surgery.
The surgery turned out to be very successful and I began rehabbing my knee a few weeks later. During the rehab process Dr. McCarthy was always there for me when I had questions about my progress. Whenever I had a question regarding the state of my knee Dr. McCarthy would always be there to respond with some advice on what I should and shouldn't be doing. This was extremely helpful for me because at the time all I wanted to do was work as hard as I could to get back on my feet and at times I would get ahead of myself.Along with my physical therapist, Dr. McCarthy was constantly keeping me on the correct path to move forward while making sure I did not do too much and set my self back.
At the beginning of the rehab process the exercises were often very tedious and boring but I knew they needed to be completed in order to get better. As time went on the rehab began to pick up and include more intense exercises which I enjoyed. Coming off the surgery I was on crutches and had a strap on brace around my knee, this was the worst part about the injury. But as rehab picked up I was able to get off crutches and loosen up the brace and move around more. The day I got off crutches was one of best days of my recovery process and I remember going to practice with my crutches in the air walking towards my teammates. After getting off crutches the rehab continued on with very little bumps in the road and I continued to work throughout the summer.
Coming off the summer I went on to be play college lacrosse. In the beginning of the year I wasn't cleared to play so everyday I watched practice ambitious to get back on the field. I continued rehab at Bucknell and after a few short weeks I was cleared to run full speed. By the time I was cleared we had finished fall practices and began conditioning as a team, something I would finally be allowed to do. At first our conditioning coach had me running with the other guys that were also coming off injuries and my knee was feeling great and even more so I was feeling great. About half way through the conditioning I was feeling so good that I had asked my coach if it was alright to run with the rest of the team and she said if I felt up to it. Not sure of what was going to happen, I lined up with the rest of the team and awaited the countdown to begin the 400 yard sprint. I started off in the middle of the group and then one by one I ran by everyone until I was only a few steps away from the fastest guy on our team. I finished in second and although I was tired, I couldn't help but smile. The following days of condition were similar and I continued to be at the front of the group. Having come off such a long recovery period I couldn't have been happier to be able to participate and compete with the rest of the team.
I am now fully cleared and have been practicing with the team regularly. My knee is feeling better than ever and I still keep in touch with Dr. McCarthy whenever I have questions. I feel truly blessed to have received such great care from Dr. McCarthy and HSS.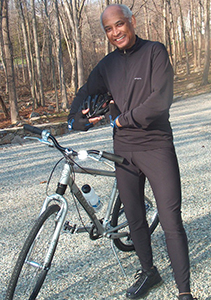 I researched a lot of hospitals in the tri-state area as I had never had surgery before. Stories from people who had this surgery warned me about the pain, discomfort and long recovery cycle.
Much to my surprise, I was back to biking, traveling, and able to hold my one year old grandson within two months following surgery. HSS is truly a first class operation and I was impressed with every one there from the time I checked in to the time I was discharged.
Now that I feel new again, I can really enjoy retirement. Thanks HSS and Dr. McCarthy for a truly wonderful experience!
Steve Messenger
New York, NY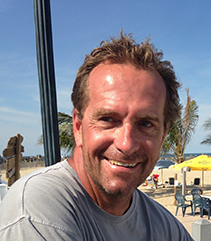 I grew up along the Jersey Shore enjoying water sports and anything involving motion and speed, like most kids. As I reached college in 1982 I found snowboarding, in it's earliest days. As I got older and raised a family, living near the coast in NJ, surfing was my adrenaline of choice. Me and my friends preferred winter surfing over traveling to the mountains for the snowboarding trips.
Fast forward 27 yrs (April, 2013) and I'm at the top of Whistler Mtn. in Canada with a snowboard in my hand for the first time and a long ride down. "But hey…," I said to myself…, "I've been surfing all these yrs… I got this."
I started making wide turns trying to control my speed by going rail to rail instead of sliding sideways down the mountain. About 30 turns into the run I caught the front toe side of the snowboard in a pretty fast turn and slammed into the trail. I sat up and had little to no pain, but I did have a third degree shoulder separation with complete tear of the cartilage.
When I returned home, I looked into having the work done by an orthopedic in New Jersey as that was my base of operation at the time. The surgeon recommended reconstructive surgery. I was ready to go, but wanted a second opinion. The second doctor recommended no surgery, but rather preferred Physical Therapy to strengthen the joint.
I had a change in life and moved to NYC and found myself needing to find new doctors. I also had just signed up for NY State of Health healthcare. After meeting my new PCP, I found Dr. Moira McCarthy through the research networks available through the NY SOH and Emblem Healthcare websites. I learned that I could go to one of the best hospitals in the world for a sports-related injury, and be seen by one of the best orthopedic surgeons in the world, specializing in shoulders, and it was all IN NETWORK!
I was clearly excited about getting the surgery done.
Then I met Dr. McCarthy and her team. She's smart and makes you feel as though you're with the best because of her calm but focused demeanor. After a thorough examination, she explained everything that was going to happen. Before and after the surgery, we looked at the x-rays together and compared them. It is interesting to see what's been done and the progress through the healing phase.
The day of surgery, March 6th, was a little overwhelming for me as it was my first time going under the knife as an adult. It was smooth, everyone moved with efficiency and complete understanding of what there role was. I was blown away. When I woke up in recovery, the staff was very comforting and was very much on top of my status until I was able to be checked out.
My ongoing physical therapy is the key to the successful return and getting back into MY game. Julie Kahn, aka "Chaka Khan," has been great at helping keep my "drive to get it done" in my back pocket and stay focused on the proper healing methods and motions. I felt the entire shoulder stabilize by around week 10.
Dr. McCarthy gave me great news at the 12 week mark, my shoulder recovery was basically complete and the repair was as strong as ever. That was June 3rd. On June 6th, my friends and I met at our favorite surf break in Bay Head, NJ and surfed for a couple of hours. The waves were small, but I paddled strongly, and it felt great to be back out after what seemed to be an eternity away.
I felt very good about my decision to go to Hospital for Special Surgery.
For all of those reasons and so many more, I would highly recommend HSS to anyone. You're at the best hospital, in the greatest city, being cared for by some of the best minds in their fields. What more could any patient ask for?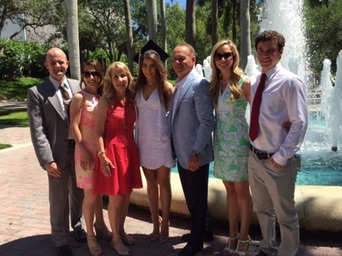 This past December, two days before Christmas, I was leaving my gym and was hit by a car while in a crosswalk. It was a devastating accident! Long story short, I sustained many injuries, which included two fractured knees and extensive ligament damage including a totally ruptured a C1.
I was told by the first orthopedic surgeon I saw I would need surgery on both knees, which was too complicated for him and he referred me to another M.D. I was distraught!
I began my own research and found Dr. McCarthy, even online she resonated with me. I had made up my mind. I could and would heal myself with the help of the right doc, and I did!
Dr. McCarthy listened to me. She worked with me as I set goals to recovery. She was also always encouraging, and supportive.
Today, without surgery, I am almost back to all activities prior to the accident. I work hard at PT and with daily healing meditations and family and friends' support, I am doing so well.
Dr. McCarthy made the difference I was hoping for! She is just wonderful and I will always have a special place in my heart for her!!!
Dr. McCarthy is an excellent surgeon who genuinely cares about her patients. I went to her 3 weeks after a traumatic injury to my knee and I had already seen 3 other surgeons. She sat with me for a long time (and through many tears), explained exactly what happened and how we were going to fix it. Her unrivaled bedside manner made such a difference. I had a very successful surgery and recovery. Dr, McCarthy and her whole staff at HSS checked in on me multiple times and are always available!
She was excellent. She made me feel comfortable with the surgery. The surgery experience at HSS was superb as was Dr. McCarthy! I recommend her to everyone.
Awesome experience. I tore my meniscus, ACL, and MCL. It was a long road to recovery, but Dr. McCarthy explained that it would be long from the beginning but that I would get back to soccer. I am so grateful! I recommend her to everyone!
Daniel
Dr. McCarthy has a great bedside manner. She is straight forward and very knowledgeable, and she took the time to answer a lot of questions. Highly recommend!
Dr. McCarthy was great !! She explained her diagnosis in detail and provided clear and simple rehab plan.
Natahlia
Dr. McCarthy was nothing short of amazing!
Pete
Dr.McCarthy listened to me and showed genuine interest in my problem. She did not rush me and answered all my questions.
Sheilah
Extremely pleased with Dr. McCarthy, her staff and the overall experience. State of the art facility, clean, on-time, efficient, nice/friendly/professional staff, professional environment. I highly recommend Dr. McCarthy.
Monika
She was professional, quick, and answered all my questions without making me feel like I should know the answers. She was not quick to do unnecessary tests but is taking the self healing approach.
Carol
I would highly recommend Dr. McCarthy....very pleasant, smart and personable.
Lauren
Efficient and pleasant office personnel. Doctor was professional, listened well on point.
She was very helpful, very smart and made me feel very comfortable with my operation. One of the best doctors I've been to.